#4 Get the Word Out
"You can have the best product in the world, but if people don't know about it, it's not going to be worth much. There are singers in the world with voices as good as Frank Sinatra's, but they're singing in their garages because no one has ever heard of them."
In this part of the book, Trump talks about being sensational. Be different. Be outrageous. Do bold and controversial things. People will hear about you.
I met one of my best friends (Greg Genter) in college. We both studied piano. After we graduated, we struggled to find students near us.
Greg and Daniel, The College Years. Were we ever that young?.
After a while, Greg came up with a crazy idea – would it be possible to teach a kid an entire beginner book in just one week? We looked into it and (at the time) no one was doing anything like that.
So, for six months we worked together on a curriculum and workbook. Together we created a 100 page workbook and invented a summer day camp called The Piano Express. Our goal was to get kids through our equivalent of the Faber Primer book in just 5 days.
That first summer (2005) we had only 7 kids sign up. Parents were skeptical when we told them that their kids could learn 100 pages of music by the end of the week.
At the end of the week, almost every child had moved through the entire book. We had a final recital on the last day of the camp. Parents attended on their lunch breaks and we even made a performance DVD for each family.
The next summer, we signed up over 20 kids – many of them were friends and siblings of those 7 original kids. We had parents calling us that we didn't even know. One of the parents told Greg: "We heard you that you're a miracle worker when it comes to music."
By 2010, we were running 150 kids EVERY summer. We were feeding teachers in our region with new students. It turned into a year round after school program called The Piano Express. The Express currently sees 250 kids every week. It is one of the premier music schools in the metro Washington D.C. area.
When you do remarkable, outrageous work, you create lifelong fans. You surprise people in a good way! They will tell their friends, their family, and their co-workers.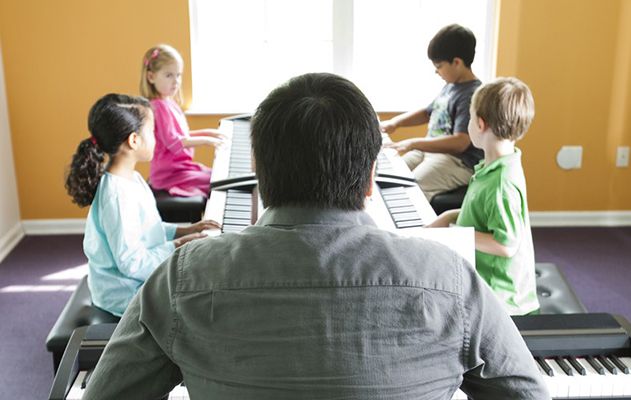 The Piano Express today
#5 Deliver The Goods
When Trump got out of Wharton business school, he had no money and was working for his dad. His dad was an old-fashioned guy. He had spent many years building apartment buildings in Brooklyn and Queens. Instead of just giving Donald money, he gave him a large loan that he expected to receive back.
Donald made a series of deals. He bought run-down apartment buildings in terrible neighborhoods and revitalized them. He gradually grew his seed money.
After a few years, he set his sights on Manhattan – one of the toughest real estate markets in the world.
No bank wanted to take a chance on this new developer. He knew that he would have one shot to prove to the big banks in New York that he could deliver a major skyscraper on time and under budget.
He did exactly that – time after time after time. While other developers would run over budget, he would contain his costs. Banks eventually shunned those other developers. Except for a few bouts with bad luck during a recession, he came through on his obligations. He is still trusted by major financiers all over the world.
The point?
You can't con people for long.
You can brag. You can generate excitement. You can talk a big game… but if you can't deliver, people will walk.
This might be the most important point – not only to this post, but to everything that this blog stands for. Read carefully!
You can promise parents that you will help little Susie to be more organized. If you don't have a plan to do that, you are going to let them down. Better that you had said nothing at all!
You can try a price experiment in your studio and increase your tuition. Good for you! But, parents won't re-enroll if students are complaining about practice each week.
We teachers have to deliver a good product.
What does that look like?
I boil it all down to one question. This is the overriding theme of my personal studio.
How much does this student need me?
By the second lesson, I want to be able to open the book, point at a new song, and say: "Play this." I want them to be able to do it with no help or prompting for me. Perfect hand position. Perfect playing.
If they can do that with me, then I know they can do it at home. I'm training them to be unafraid of going to the piano bench at home. They are forming a practice habit that will stick with them for years.
By and large, that's exactly what happens with all of my new students. Just like many other teachers, I have worked for years at finding the perfect way to teach the beginning concepts. I have optimized it for maximum impact and efficiency.
Now, you might have a different theme or goal – it could be sight reading or ear playing. You might be the teacher that has the most creative games in town. You might have a goal of students doing well in music competitions. You could be the music school that uses iPads in your music lessons.
Whatever "it" is, put that front and center in your promotional materials. Connect that to the hopes and fears of your student's parents. Create something that is worth talking about.