Free up your time and grow revenue by hiring
support staff, building a sellable business,
and scaling your marketing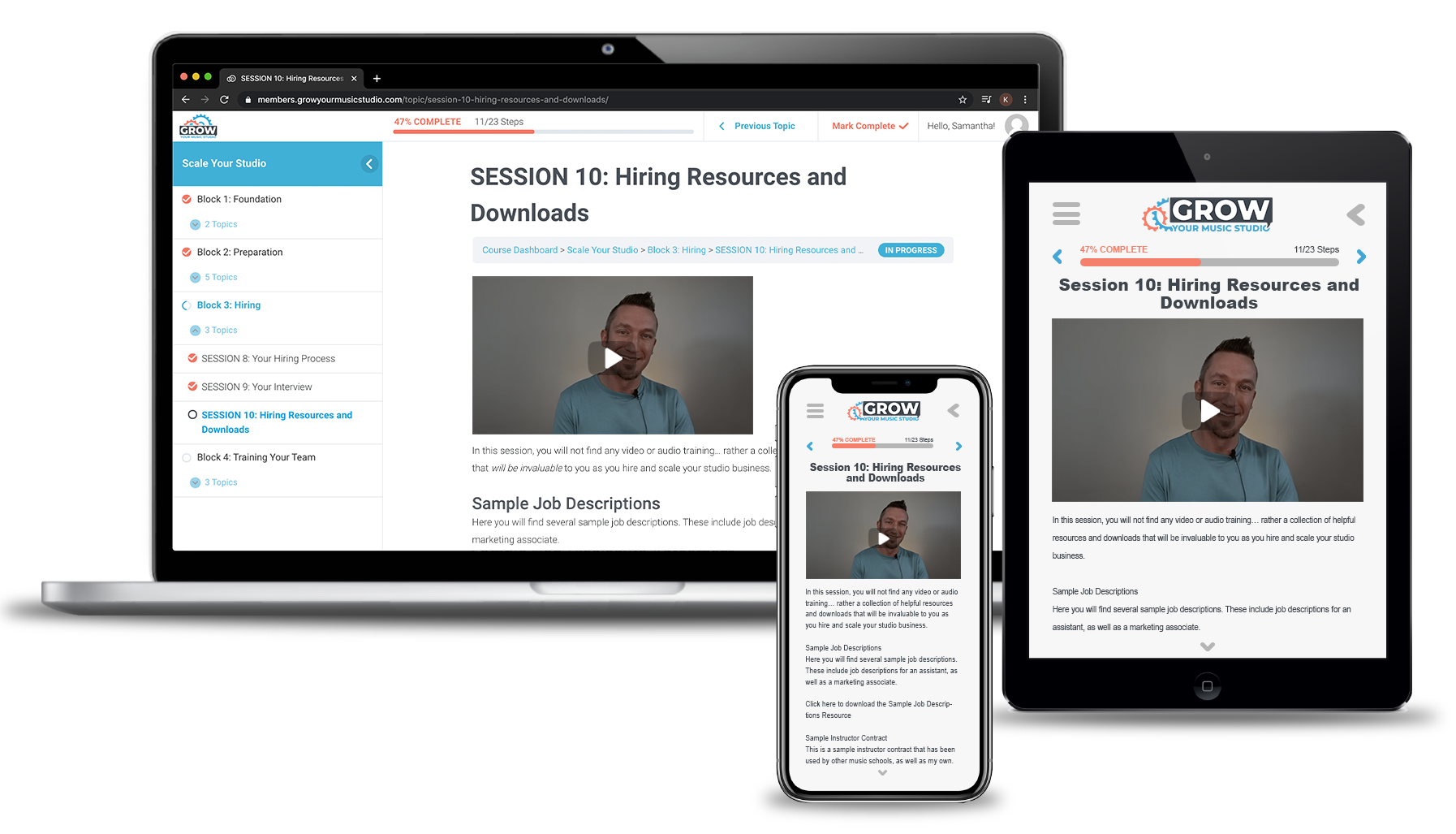 Offload low-value work
"Buy" your time back
Hire rockstar team members (admin, assistants, teachers)
Use our templates and contracts
Create "money-making" systems

Goal?
Build systems, do more in less time

Training Length
Self-paced
What is it?
Online Training
Scale Your Studio is a "go at your own pace" online training with 7 hours of video, detailed checklists, and Q&A support
Scale Your Studio is for studio owners who want to hire support staff or teachers, scale their operation, and spend more time "managing" the business and less time doing the tasks in the business. While perfect for large studios… many of our clients have been single teacher studios who wanted to outsource all of the admin, busy work, recital planning, invoicing, and record keeping in their studio to a trusted assistant.
The training is divided into two parts: Conceptual and Practical. First, we show you how a business scales. Then, we show you how to build the team and the systems that will make that happen. We include a huge number of resources, templates, and ready-made scripts so you don't have to reinvent the wheel.
Watch or listen to the training on your computer or mobile device and complete the session action checklists. Use our pre-made Hiring Templates, Contractor or Employee contracts, and our employee management and communication templates. Use our step-by-step guide to set up your business system so that you never have to do "admin" work in your studio again. If you do the work, you get the results.
Why does Grow Your Music Studio offer this training?
Most business owners don't know how to protect their energy or time. This training shows you concrete ways to make more money and scale while spending less time in your business. There is no other training on the market that teaches studio owners how to scale the Five Core Areas of your business, how to hire, and how to manage your team with the level of detail and precision that we offer in this training.
Scale Your Studio begins on the day you register. There's nothing stopping you from beginning today and getting hours of your life back within DAYS of beginning this training.
Is your studio ready to scale? Connect with us here to get a custom scaling plan for your studio:
Whether your goal is 100 students or 1,000 students, there are tools and frameworks you need to scale up smoothly and without stress. We show you all of that in this training.
Marketing creates sales and revenue, but not growth. When you understand this distinction, your studio will grow organically. You won't be able to stop it! We show you the activities that you must start – and the activities to stop.

Your entire business is a collection of parts – a system. We show you how to identify those systems, improve them, and even give you templates for systems you should be implementing right now.
We show you how to get incredible productivity from your team, plus our communication and management tools. You'll spend your time focusing on scale… not fixing mistakes your team is making.

Your mindsets and beliefs are your business' biggest limiting factor. We will "uninstall" those growth limiters and give you new perspectives and tools that will help you be the leader your organization needs.
What's in Scale Your Studio?
We have carefully designed this training to give you what you need to automate and systematize your growth. Click the + to see what's inside each module.
Course Total Running Time: 07:10:34
Block 1: Foundation
2 Sessions
01:44:18
Session 1: Mindsets for Scaling Success

00:57:33

Session 2: Crash Course in Business Systems

00:46:45
Block 2: Preparation
5 Sessions
01:50:59
Session 3: Your Studio Business Core

00:35:02

Session 4: Systems - The Backbone of Your Business Machine

00:28:45

Session 5: Emptying Your Task List Forever

00:21:07

Session 6: Preparing for the Team Member You Need

00:13:15

Session 7: Where to Find Your Team Member

00:12:50
Block 3: Hiring
3 Sessions
00:58:32
Session 8: Your Hiring Process

00:42:08

Session 9: Your Interview

00:16:24

Session 10: Hiring Resources and Downloads
Block 4: Training Your Team
3 Sessions
01:09:57
Session 11: Onboarding Your Team Members

00:27:43

Session 12: How to Train Your Team Member

00:22:04

Session 13: How to Manage Your Team

00:20:10
Block 5: Working With Your Team
2 Sessions
00:23:52
Sessioin 14: Creating Your Studio Business Machine

00:11:45

Session 15: Working Together

00:12:07
Block 6: Scaling
2 Sessions
01:02:56
Session 16: 10X Vision - How to Scale to Any Size

00:27:45

Session 17: Your Scaling Calendar

00:35:11
Is your studio ready to scale? Connect with us here to get a custom scaling plan for your studio:
What Our Students Are Saying
Scale Your Studio is the business education a studio owner wishes they received at university! But, don't take our word for it! Listen to what the students from our beta class have to say:
"Scale was SUPER helpful and pretty much life changing for me. I went from working pretty much all day every day to working 4 days a week and never answering an email — and never worrying about it.
By the time 6 months was up I was able to spend little to no time thinking about invoicing, scheduling, getting reviews, sending students practice materials, etc. Because of that I was able to:
– take on a whole new day of students and add 20% to my bottom line
– focus on TEACHING not following up with a bunch of rescheduling emails
– be the CEO in my business – building new systems, processes, and programs so that it actually grows, instead of putting out fires everyday."

"Beauty, simplicity and clarity – I didn't expect this program to bring these to my life. But it happened. Working with a team and building great systems is AMAZING. I'm never going back to working solo again."

"I joined this program because I had the feeling that my lack of skill & experience with hiring was preventing me from growing. It wasn't a matter of "growing" anymore — more growth meant more work, and not the good kind. The training showed me ALL the steps to hire, turn the business in a machine that I can step away from, and help the staff feel confident and competent while creating top-notch work well into the future.
If you are a BUSINESS OWNER, period, you should take this course. Obviously it's geared to music studios, but that doesn't matter, IMO. Lots of good principles in here that can be applied anywhere. Taking this training is like finding the key to unlocking the door to How-to-Make-A-Business-Grow-to-any-Size. Once you understand how it's done, you can't un-understand it."
"I didn't know how to go about delegating in my studio, or whether it was even truly realistic for my studio size and income, but I knew I needed to start somewhere. All I can say is wow! There is so much content in this course, that will not only expand your mind and show you what's possible in your studio, but it is broken down into manageable steps to help you figure out what to do next. I have a greater understanding of how my business should function and even what I should be aiming for.
This course is packed with tons of value and Daniel over-delivers in his content as usual! If you are to truly run a business, it needs to be able to function to some extent without you, and you can only achieve this through systems, automation, and delegation. If you want to have some freedom in your life from having to work every single aspect of your business, then you need to take this course!"

"I joined this course in order to learn more about automating our business so that we had more time to work on our business. I also wanted to know the processes and procedures for hiring an assistant or later on another instructor to be able to help us to grow quicker. This course taught all of that and more! By taking this course, we have realized how important it is to have processes and procedures in place so that we don't have to be the center of the business all the time. It's also great to have these in place so that it is easy to hand things over to an assistant without having to explain something over and over again.
This course was definitely worth the investment just like everything else that Daniel puts out. If you want your business to expand and grow beyond what you even thought was possible, you should take this program."
Is your studio ready to scale? Connect with us here to get a custom scaling plan for your studio: